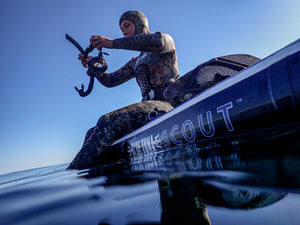 freediving & spearfishing platform
DESIGNED FOR DIVING
Stand up paddle to find more fish and structure. Kayak paddle to get further faster. Clear window to spot fish and store your anchor. All the right pockets, d-rings and bungees in all the right places. For Spearos, By Spearos.
light & stable platform
Easy to carry to the beach, more stable than a kayak. Check out the Bixpy Motor Option.
Awesome and Super Versatile SUP | In Shore Boat Experience
This SUP is awesome for a variety of applications. Most notably for shore dives where, it's super effective getting you and your gear to specific beds and reefs up and down shoreline. It's more of a boating experience, we've taken our SUPs hours down the coast for full day missions. I'm really impressed, it's functions more like a personal boat. I'd recommend getting a portable (car) inflation pump specific for SUP's. This helps speed up the inflation process when on various locations. Kyak oars can also be of benefit to water hunters. I'd also recommend a dry bag tied down to the back, for mask, food, water ect. You can use the mesh backpack that comes with it to wear on the paddle out, and store (up front) your flippers and other items. The SUP is extremely steady and has all the tie downs necessary for a great day on the water. I can't recommend it enough.
This is the most comfortable and dynamic platform that I've used.
This is the most comfortable and dynamic platform that I've used.